Piggybank House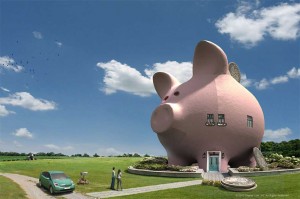 A 3d / photo piece in a series for US Bank.
Agency: Intrinzic
Senior Art Director: Todd Lipscomb
Client: US Bank
Challenge: Create Roadside attractions for use on their web site
Composite of photos – sky, grass, tractor, flowers, windows, door
3D – Pig, car, people, coins, mailbox
Todd  contacted me about helping him with a series of ads for US Bank. He lined out what he was looking for, supplied some of the photos and I took it from there gathering the remaining photos and getting the 3d pieces in place.
This series had tight deadlines and my computer quit in the middle of the job. I had a new one overnighted, spent the next few hours sweating bullets reinstalling software and then back on the job for Todd. All the deadlines were met but I have a few more grey hairs now.
Like every other freelancer out there, caffeine is my friend! 🙂
When you get done savoring Todd's creative genius here, look for  his rock band – The Kentucky Struts